It is very confusing and troubled moment for every bride when choosing her wedding dress. Don't worry about it, now we are here to give you some suggestions from available beautiful wedding dresses. In this post, I only share different varieties of wedding gowns with sweetheart neckline or V-shaped. These suggestions help you to find the perfect dress for your wedding day.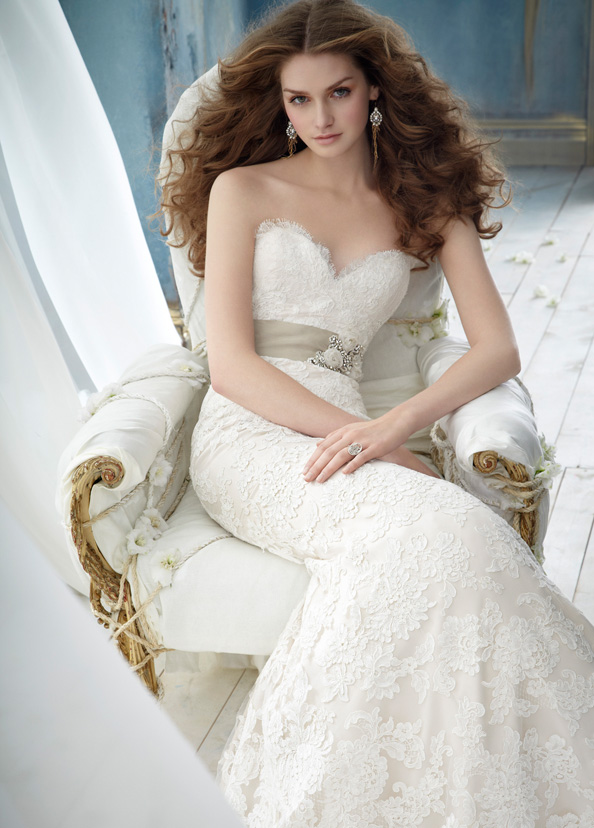 Sweetheart Neckline Wedding Dresses with Straps:
Sweetheart neckline dresses always look stunning with strapless top but if you are not comfortable with strapless then you can also find beautiful dresses collection with straps. But is suggests you to try without straps or at-least with single shoulder strap to show clear sweetheart shape of your gown.
Ball or Corset Shape Wedding Gowns with Sweetheart:
To look unique and stunning, you can select ball or corset styles with sweetheart neckline. Ball is also further categorized as plus size, tea shaped and ball with lace wedding gowns. Corset is better because it is tight from the top side and show clear heart shape or v-shape of the dress.
Bling and Lace Wedding Dresses with Sweetheart Neckline:
If you want to show your gown's sweetheart neckline prominently then using bling or a fancy lace is good idea. You can do many things to bling your gown top. Although it make your gown heavier but when it shines it looks elegant. Now there are many outlets where you can find ready-made bling wedding dresses with cute heart neckline. There are many colors are also available but bling is usually prefer in silver and golden colors only. But if your gown has any color combinations like red and white then you can also use red color lace or shiny blings.
Sweetheart Wedding Dresses by Fashion Designers:
If you are looking for famous fashion designers or brands who designed bridal dresses with sweetheart necklines then there are many clothiers and designers are competing in the market to provide you latest outfits in very affordable prices. You can look for the collection of David's Bridal, Vera Wang and Oscar de la Renta. They are USA based professionals in bridesmaid dresses and you will definitely get your favorite wedding gown from these designers.
Fit and Flare Gowns with Prominent Sweetheart Neckline:
Fit and flare gowns are best are for women want to wear a dress that make a heart like shape. We already posted many designs and discussed about fit and flare wedding dresses here. So you should go and see some styles with uncommon possibilities of dresses designs.
I hope you like all these dresses, you may choose any of them with sleeves or without sleeves depend on the place and season. These dresses are usually made with chiffon, silk and cotton. Quality of fabrics depends on the price and outlet that you choose. The fashion designers that we recommend always use first class quality to prepare wedding dresses because they have a reputed name in the market. You can also find cheap gowns with good quality fabrics in many online stores. Especially in wedding seasons you may get any discounts on bulk purchases.
See Photos of Wedding Dresses with Sweetheart Neckline: